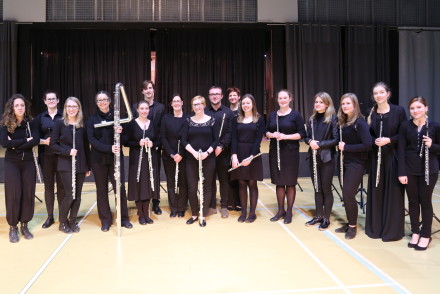 rarescale Flute Academy
Programme:
JS Bach (arr Rees) Brandenburg Concerto No 2
Coreen Morsink There Was a Time (UK premiere)
Matthew Whiteside (arr Rees) Nobilis Humilis (UK premiere of arrangement for flutes)
Caldara (arr Rees) Crucifixus
Boismortier Sonata en Trio No 1
Dukas (arr. Rees) The Sorcerer's Apprentice
rarescale Flute Academy presents a programme of classical favourites and new works in celebration of its tenth anniversary. Hear the flute family from piccolo to contrabass, performed by an ensemble which celebrates and explores music for low flutes.
rarescale Flute Academy (rFA) was formed in 2007 as the educational venture of the contemporary music ensemble, rarescale, to enable advanced players to develop chamber music skills and experience playing low flutes. rFA's membership ranges from university undergraduates to professional players and adult amateurs, many of whom travel from all around the UK for monthly rehearsals in Windsor. Under the directorship of internationally renowned low flutes player and arranger Carla Rees, the ensemble has performed at the British Flute Society's international Conventions, as well as in numerous lunchtime concert series and most recently at St Catherine's British School in Athens. The group's repertoire is formed mostly of arrangements of classical orchestral repertoire, often featuring more than the usual number of alto and bass flutes, and also includes new works written specially for rFA. The group has been invited to perform at the First International Low Flutes Festival in Washington DC in April 2018, and is currently fundraising towards the costs of this trip.
This concert celebrates rFA's 10th Anniversary and is supported by Trevor James Flutes. rarescale is a registered charity, number 1112917.
rFA are:
Laura Beardsmore
Maria Briz
Helen Coates
Beth Godfrey
Emily Hall
Alicia Higgs
Laura Kox
Harriet Lee
Deborah Lock
Hilary Orton
Sarah Parkes-Bowen
Jennifer Prentice
Carla Rees (Director)
Jennifer Shepherd
Gavin Stewart
Kitty Swanson
Mariangel Villalobos
Kim Villaweaver
James Walker